Top posting users this month

Title: Fenris
Sobriquet: Big Bad Wolf, Krieger [meaning; "Warrior"]
Sex: Masculine
Hour Glass: Four years of age
Sexual Orientation: Straight
Specie: A mix of Timber and European Wolf
Current Ranking: Loner
Desired Ranking: Warrior
Native Tongue: English
Secondary Language: German
Physique: Fenris´ body is packed with muscles and nothing but muscles. He had spent many days, months and even years to shape his body to become a powerful canine, physically and mentally. The brute meisures thirty eight inches shoulder heigth and weighs one hundred and eighty pounds, a massive brute, indeed. Having long legs which are connected with a broad chest, Fenris is born to be a fighter. And the brute´s quite enjoying his fate since there was never someone who had ever dared to challenged his authority.
Fur Color: During summer time, Fenris coat is more of a darker brown while in winter time, it is a solid black. So overall, he has a predominantely charcoal pigmented body with several brown-ish markings. The black fur fades into a light grey, almost white color around his belly and his chin/cheek.
Fur Texture: Fenris fur is short during winter and summer. It isn´t even short, it´s having a rough texture. His fur´s texture kind of matches with his interior.
Scars/Markings: Several battle scars are to be found on his body, though they´ve healed well and are now hidden under his canvas.
Those Eyes: A honey pigmention.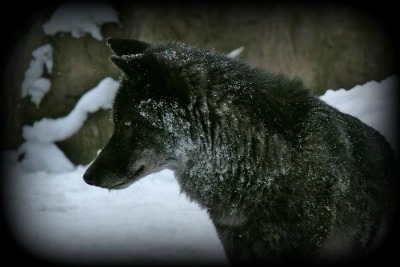 Characteristic: Simple keywords of Fenris personality are; ruthless, careless, extremely assertive, yet loyal. The charcoal brute is a real, cold-hearted monster in the battlefield and even outside of it. He is a ruthless murderer, someone who has trained his entire life with only one purpose; becoming powerful. His personality is just as worse as his reputation; he is bitter, cold and extremely aggressive. One little provokation and his opponent will regret his words or actions. Fenris is hot-headed, he can easily burst out; a wandering vulcan, that I what he is. Once errupted, it will destroy everything and cause terror. 
The male is not afraid of fighting nor killing another wolf when he´s ordered to do so or just simply provoked. During a combat the stress hormone called adrenaline which rushs through his entire body makes him go on and on until his enemy is either defeated or simply dead; giving up or sparing someone´s life is not tolerated by this male except he´s ordered to stop it. There will be no mercy for those who dare to attack him, mock him or his pack since this beast will never stop until his opponent is finished off. 
You may say now; he can´t be all that bad, he probably got a soft core. How fool-ish to think that Fenris has a soft core. His core is just as hard as his shell. The only positive trait of this male would be his loyality; he´d do everything when he´s ordered to and he´d give his life up for the sake of his pack he´s currently in. But other than that, there´s no friendly side of him. He is overall aggressive and very vicious in fights and that shall never change.
However, even though he seems really like someone you´d never want to even talk with, his friendships, if he´d ever find someone to call his friend, are very deep and he´d never betray those he truly loves. Other than being the assertive canid, Fenris can actually be polite and stay formal, though only when his conversational partner shows such behavior as well. 
Flaws: First of all to mention his temper; Fenris simply can´t stay calm, if something or someone pisses him off, he´ll loose it what happens quite quick. So self-control is something he had never heard of. Another thing to mention is his agility and speed; even though he can move his body entirely long, he is very slow what makes hunting for this male somewhat impossible. Not that he is just hot-headed, Fenrir can´t empathize for anyone at all. The members of his pack are an exception but other than that, he wouldn´t back down from even killing the youths of someone when he was ordered to; he is simply a living, though soulless killing machine.
Talent: Strength. Strength is everything this male is representing. Being packed with well trained muscles, his attacks are powerful and precise, however lacking of swiftness, his attacks don´t hit his opponents often except they´re having heavy combat, physical contact. This wolf is a real monster during a combat, it seems as if you can´t hurt him at all. Fenris is vigorous and pain-resistant what simply means that he doesn´t care about pain. Due to his years of training, his attacks are precise and deadly, he is the perfect killing machine, a ruthless monster on the battle field. Not that he got the power, no he even has the endurance to keep fighting for ever.
Dame: Alana
Sire: Viktor
Siblings: One younger brother named Alexandros
Aquaintances: Those in his pack.
Friends: Fenris has no friends.
Crush: None currently.
Mate: None currently.
Whippersnappers: None currently.



Posts

: 45


Join date

: 2014-10-11


Age

: 21


Location

: In ma hood~



Accepted.





You are now free to play this character inside of the role-play.




---
Permissions in this forum:
You
cannot
reply to topics in this forum